Guests
08 Festival- seizoen 2007/2008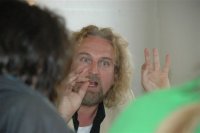 Guests (Engelstalig)
Wannie de Wijn maakt op basis van improvisaties een voorstelling. Verhaal en personages zijn creaties van de improviserende acteurs. Wannie de Wijn regisseerde voor het 06 Festival op basis van improvisaties de hilarische voorstelling Subway stories.
Guests (English)
Wannie de Wijn brings a new performance based on improvisation; the narrative and characterisations being the actors own creations. Wannie de Wijn was the director of the hilarious Subway stories, also laid upon a foundation of improvisation.

*read more about Guests

regie/director Wannie de Wijn
spel/cast Sacha Bulthuis, Judith Linssen
en/and studenten van de Nederlandse en Zuid-Afrikaanse toneelscholen /students from Dutch and South African drama schools/academies: Thijs Steenkamp, Ellen Parren, Jelle de Jong, Phi Nguyen, Thirsa van Til, Thato Cele en Nathaniel Ramabulana
licht/light Henry van Niel
Samenvatting, met dank aan K&L

Foto's 08 Guests (Leo van Velzen)
Alle foto's zijn, met naamsvermelding van fotograaf Leo van Velzen, rechtenvrij te gebruiken. Door op een foto te klikken, wordt een nieuw venster geopend met een uitvergroting van die foto. Door op de 'high res.' link boven een foto te klikken, kunt u de foto in afdrukkwaliteit opslaan.
(high res)  


v.l.n.r. Thijs Steenkamp, Jelle de Jong, Phi Nguyen, Thato Cele en Nathaniel Rambulana


(high res)  


v.l.n.r. Ellen Parren, Sacha Bulthuis, Phi Nguyen en Thirsa van Til

(high res)  


v.l.n.r. Thato Cele, Phi Nguyen, Thirsa van Til, Thato Cele, Thijs Steenkamp, Ellen Parren, Judit Linssen en Jelle de Jong


(high res)  


v.l.n.r. Jelle de Jong, Phi Nguyen en Thato Cele


(high res)  


v.l.n.r. Thato Cele, Nathaniel Rambulana, Thijs Steenkamp, Thirsa van Til, Phi Nguyen, Jelle de Jong en Ellen Parren