Fringe programme
08 Festival - seizoen 2007/2008
Debate on the multicultural society
During this debate, important questions on our multicultural society will be addressed. Rik Pinxten, professor of anthropology at the University of Gent's Centrum voor Interculturele Communicatie (centre for intercultural communication), will raise topical questions on the future perspectives for globalisation in debate with Mike van Graan (South African playwright and theatre director), Rabin Baldewsingh (The Hague council member), Aus Greidanus (Toneelgroep De Appel's artistic director) and Jaco Bouwer (South African stage director).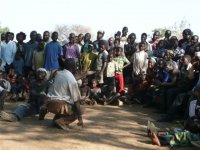 Rik Pinxten advocates radical shifts in our ways of thinking: 'The anthropological part of me knows that we are all clearly different, and that this is a universal characteristic. As a human race we are profoundly one unit, but in the same moment different in a cultural sense, both as individuals and groups. This far-reaching change of mentality should continue to be promoted; that of unity in variety.'
Accounts of multicultural society are similar to those framed in Kader Abdolah's book Het huis van de moskee (The mosque's house): 'The narrative of Het huis van de moskee has by no means reach its final destiny but that's like life itself: everyone has to step off at some point along the line.' There is a sentence common to traditional Persian stories: 'Our story is finished, but the crow still has a long way to go before reaching its nest.'

By Rik Pinxten: Globalization and the Role of the Power of the Citizen en Kosmopolitisme: internationaal burgerschap en culturele identiteit
Karin Louwers (apprentice in dramaturgy) presents an essay on her Odyssey to the theatre of Malawi
. A story describing
culture shock, alienation and powerlessness as the primary perception of the other. Karin came home with one crucial question:
'Cooperate
, yes sure, but how?' (
video
)
Pass 30- afternoon
A special afternoon for (future) Pass 30- (for visitors younger than 30 years) holders, an afternoon of meetings and discussion with our new generation of actors. Appel actors David Geysen, Judith Linssen, Isabella Chapel and Marguerite de Brauw speak with student actors from South Africa and The Netherlands about cooperation, about theatre and art and about life in a multicultural society. Special guest appearances possible!
Mike van Graan artist in residence
In cooperation with Kosmopolis Den Haag, Toneelgroep De Appel has invited South African theatre producer Mike van Graan as their artist in residence. Mike van Graan is presently engaged in several cultural activities in The Hague.
Under the authority of De Appel, he has written the Odysseus in Holland script for the 08 Festival. David Geysen will direct this script. Mike van Graan will also take part in the multicultural society debate. He will also coach and guide five Dutch playwrights as they prepare their own new scripts. These will be presented on the afternoon of Sunday 15 June at Het Paradijs (Koninklijke Schouwburg, www.ks.nl of www.platformtheaterauteurs.nl).